Squid's Major Supplier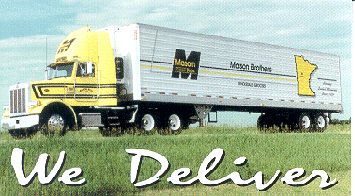 Mason Brothers
Serving Our Customers Since 1920
Founded and in continuous operation since 1920, Mason Brothers has built its reputation on customer service and satisfaction. Mason Brothers caters to any size store, from supermarkets as large as 60,000 square feet to 2,000 convenience stores. We are proud that these independents continue to grow and prosper.
Mason Brothers Features
Full Line Departments & Services
Dairy
Mason Brothers features two complete lines of dairy -
Land O' Lakes and Cass Clay
Frozen
Mason Brothers carries over 1,500 frozen items and bakery bake-off products.
Meat
Mason Brothers offers a complete line of vac-packed meat products, featuring a complete line of fresh meat, deli meats and cheese. All meats are top quality, and many items are sold in one-piece ships to give all stores a greater variety.
Bakery
Abby's Bakery gives our customers the ability to order fresh bakery products. The 7200-square-foot modern facility features over 125 items including breads, pastries, cakes, bagels, and special-ordered decorated and personalized cakes.
Grocery
Mason Brothers offers over 10,000 name brand products and also features a full line of Hy-Top private label items.
Retail Services
Mason Brothers offers additional retail services including food shows, reclamation program, retail accounting, store counseling, store layout and design, part cases, multi-zone catalog, personalized catalog and category management.
Mason Brothers
Here To Serve You
Mason Brothers is committed to expanding and refining in order to better serve our customers. If you are interested in taking as closer look, please contact us.
We are here to serve you.
Murlyn Kreklau
Dave Pierson
Denny Mueller
Phone: 1-800-862-8940
Phone: 218-631-2220
Fax: 218-631-1167
mbc@masonbros.com
222 4th Street NE
PO Box 230
Wadena, MN 56482-1167