About Us - Squid's Market
Squids Market is a family grocery store
located in Greenbush, Minnesota.
Click on images to see larger versions
In 1950, Mike Korczak lost his liquor license in a raid on his tavern. That, essentially, was the beginning of Squids Market! Punch-boards were illegal, but every respectable tavern had them available to their customers; Mike had them. The authorities decided to enforce the punch-board law, and an example had to be made. Mike was it.

Felix & Frances
At the time, Mike owned his building, which was partitioned to accommodate his tavern on one half and a grocery store on the other. With a 2-year-old son (Felix) and a wife (Frances) an interruption in income was out of the question, thus he and Frances entered the grocery business.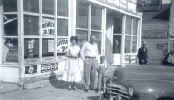 Frances, Mike & Felix - The First Store
They began as independent grocers, but in 1951, they gained a franchise with Red Owl Stores, Inc., and the business became Mikes Red Owl.

Remodeled, now known as Mike's Red Owl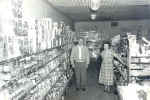 Mike & Frances
In 1957, the Korczaks had outgrown their little store and built a new one at its present location just across the street from the original building. So it was that the worst disaster of Mike's career turned out to be his greatest good fortune. The "3.2 beer tavern" business did not have much of a future; the grocery business that Mike established has survived to see its 50th anniversary in year 2000.

Construction on the new store building, May 1957

Mike & Frances, Back of New Store
Mike Korczak died in 1975, and his wife, Frances, along with her sons, Felix and Mike, continued to operate Mike's Red Owl. In 1985, Frances sold the business to her sons. They formed a corporation, Tiger John's, Inc., and operated under the name of Greenbush Red Owl.

Felix & Mike of Tiger John's, Inc.
In 1989, Red Owl Stores, Inc. was bought out by SuperValu, Inc., and Felix and Mike acquired a franchise with that company. Mike had a young son named Ryan, who for some obscure reason was nicknamed Mr. Squid by his eccentric Uncle Ken. With the demise of Red Owl and the advent of Super Valu, the name of the business had to be changed. Mike and Felix reasoned that Ryan could possibly be their successor some day and decided on Squid's Super Valu as the new business name.
Usually shortened to merely Squid's, the name is humorous, easy to remember, and unique. Most people seemed to readily accept this radical sobriquet in spite of Greenbush being a rather conservative community of only 800 souls. Ryan's nickname, Mr. Squid, did not stick. However, Squid's SuperValu did.
The year 2000 not only saw the 50th anniversary of the Korczak Family in the grocery business, but also a new supplier -- Mason Brother's of Wadena, Minnesota. The name of the store changed once again, and it is now known as Squid's Market and sports its own logo.
After 15 years of amicable partnership, Felix and Mike look forward to many more years of serving the Greenbush Community with quality groceries, fresh meat and produce, and an excellent supply of fresh bakery products in conjunction with Abby's Bakery of Wadena.
Thank you for visiting the website of
Felix & Mike
___