Abby's Stencil Cakes
Clicking on the image will bring up
a larger version.
Clicking on the cake title will bring up
an order form.

(Not shown: Taz Stencil#S-206)
(Not shown: Ninja Stencil#S-208)



Big Wheel Pickup Truck Stencil#S-326


Fishing - Female Stencil#S-294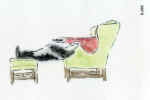 25th Anniversary Stencil#S-272

50th Anniversary Stencil#S-274
____________
Deco Cakes - Prices
1/4 Sheet (8"x12") 14.99
1/2 Sheet (12"16") 20.99
Full Sheet (16"x24") 29.99
________________
If none of the pictured cakes will do,
please contact us with your request.
If the bakers can design
a cake to your specifications,
we will contact you with the price.
_______